Today, I am honored to be welcoming

my very first guest blogger, Jenni,

who writes a beautiful (and extremely popular) blog full of gorgeous pictures of her family, her adorable dogs, Gracie and Cooper, her darling home, and all the great places she's been visiting. Not only was Jenni was my very best childhood friend but she continues to inspire me as a blogger and a photographer (although I am nowhere NEAR as talented as she is in either department!).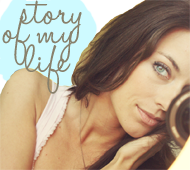 Why, hello Elizabethans. My name is Jenni, and I blog over at Story of My Life. Elizabeth and I were the bestest of friends way back when we were suuuper nerdy homeschooled kids both living in Germany.
Now we're just super nerdy grown-ups. Some things never change.
I found a mildly terrifying rather endearing picture of us together back in our glory days, but I seem to have misplaced it now. I wish I had it to share with you.
Anyway, Elizabeth and I reconnected thanks to the wonderful world of Facebook, and I have so enjoyed getting to know my sweet childhood best friend again. Elizabeth is a doll isn't she? And hilarious. And disgustingly smart. All traits which, I remember quite well, she embodied at the tender age of 9, as well.
While rummaging around in my "memory box" the other day (the place I put all of the funny little trinkets I don't have the heart to throw away), I stumbled upon an old letter that Elizabeth wrote me after my family moved back to the U.S. and away from hers (we were 9 or 10 at the time). I must have laughed for days after I read it, and it seemed appropriate to share it here.
"Ynnek" is code for Kenny, by the way. He's the boy we BOTH had a major crush on.
Oh, and I used to spell my name with a Y (it wasn't a typo).
Who will tell me to put my glasses on?
I will tell you what Ynnek looks like. Remember our code words, Jenny
As soon as your email is hooked up, write me! It is important to the well-being of our children, grandchildren, and great grandchildren!
Hilarious. I'm sure you need no further proof that we were pretty darn nerdy.
Thanks for reading! Come visit me at SOML any time!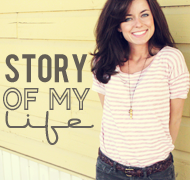 Story of My Life
.......
Cough. I don't think anyone is surprised that I went on to get THREE degrees in theatre. I'm so surprised Jenni saved that! On a serious note, I really did cry for weeks when Jenni moved away. For a nine-year-old to lose her best friend across an entire ocean was pretty devastating. Very grateful for technology and the ability to reconnect after all this time.
So if you're not already addicted to
Jenni's remarkable blog
, go visit her right now and say hi! A million thank-you's to her for taking the time to post here today!
If you're visiting Love is the Adventure for the first time, I hope you'll come back again! I love having you here!