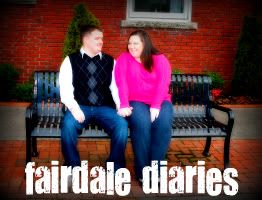 That's right. Today I'm blogging over at
Fairdale Diaries
. If you haven't met Laura yet, please come over and say hi! We're talking about
how Kyle deals with my backseat driving
so if you have a rant/suggestion for me, you better get over here and share it!
Hope your Mondays are already rockin'.
love, elizabeth
PS: Countdown to giveaway continues...Just 8 more posts! Tell your friends, tell your family, tell your new neighbors (hey, it's an icebreaker - "so glad you moved in above us, please don't hold dance parties at 3 am, and oh, my blogger friend is holding a giveaway and you should check it out").