I can't remember the last time we bought furniture. Pretty much everything in our apartment (with the exception of our couch and armchair) is secondhand. I'm a big proponent of dumpster-diving and also of having friends with great taste. So when our friends Andy and Chelsea agreed to trade our antique croquet set for this adorable shelf…this happened.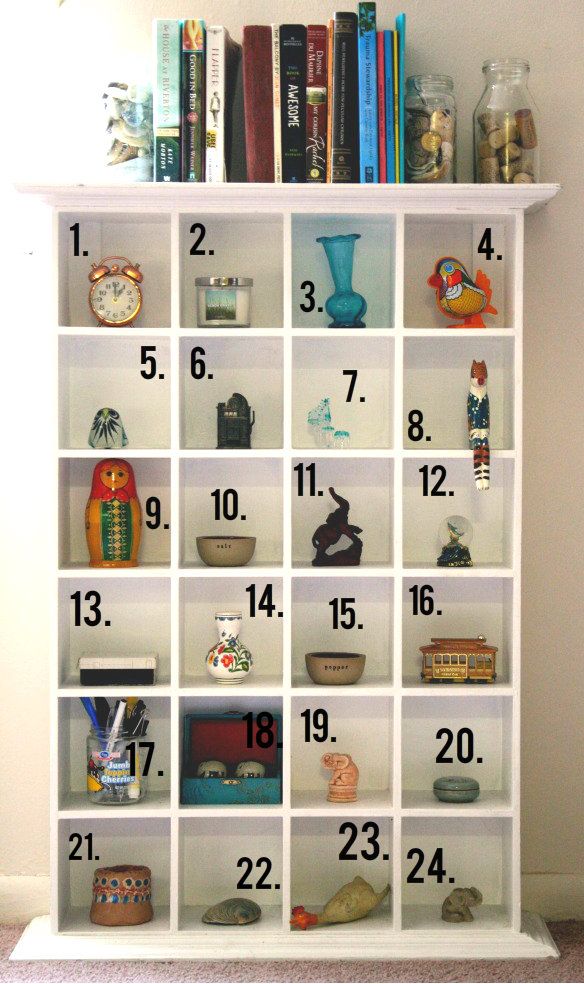 Originally, it was made to hold CDs but since the blistering dawn of the iPod, our albums have mostly been relegated to a storage closet. So instead I decided to fill it with all the little curios I have hoarded for the past seven years.
1. Brass alarm clock that belonged to my mother in high school.
2. Beach Grass candle from Bath & Body Works. (You'd think they were paying me to talk about them this much.)
3. Crooked blue vase from Rainbow's End, the local thrift store where Kyle and I went to college.
4. Wind-up toy bird from my parents' house.
5. Painted owl I found in a box that had belonged to my mother as a teenager.
6. Miniature working slot machine (and pencil sharpener) that Kyle found in high school.
7. Hand-blown glass piano and bench from Silverton, Colorado.
8. Painted wooden cat wearing a dress. I found her in a box of things headed for a garage sale and saved her.
9. Russian nesting dolls from my mom.
10. and 15. Ceramic salt and pepper bowls from Paulova. Sarah gave them to me for my birthday last year.
11. Red elephant from Emily. Elephants with their trunks pointing up are good luck.
12. Myrtle Beach snow globe from the Gay Dolphin Gift Cove.
13. Beatles trading cards passed down from my Aunt Joanne.
14. Painted floral vase from Beth.
16. Wooden trolley car from our trip to San Francisco.
17. A jar of pens. Yes.
18. Medicine balls from my parents.
19. An elephant from Kyle.
20. Hand-painted dish from South Korea.
21. Clay pot my mother made in school, circa 1962.
22. Sea shell from somewhere in the Carolinas.
23. The rubber chicken my friend Em and her mom hung from the rearview mirror of our car on our wedding day.
24. A final elephant.
How do you display your favorite knick-knacks? Are you a knick-knacks kind of person?
love, elizabeth